Kitchen Confidential: Your 3 Most Important Questions Answered
What you need to decide on before renovating your kitchen and how.
There is no denying that the kitchen is one of the most significant areas of one's home as it caters to your most basic need for fuel and refreshments.
There are many factors to consider when designing a kitchen! You can start by addressing these three most important questions.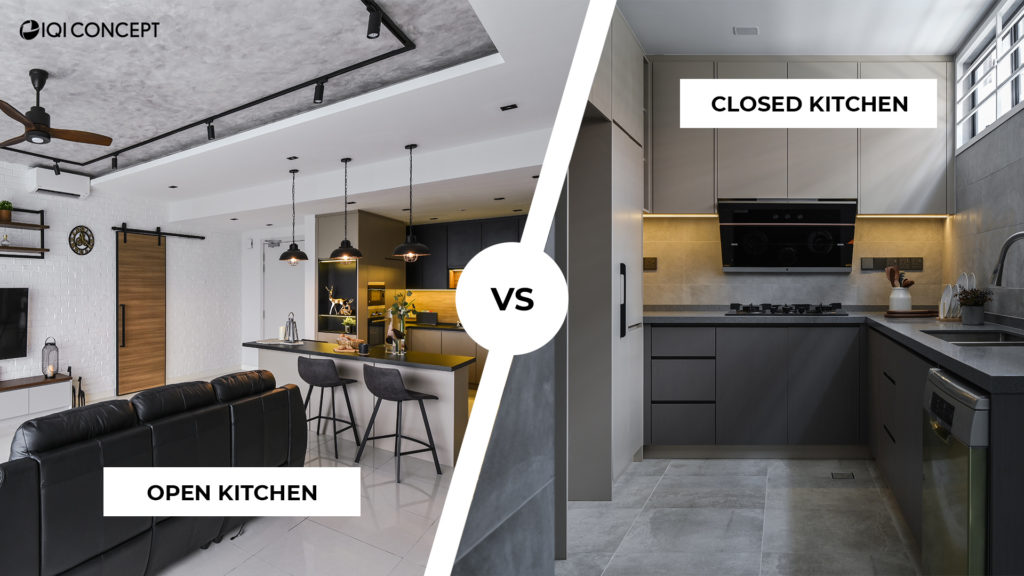 Should you have an open or closed kitchen?
An open kitchen has walls on just one side and integrates with adjacent areas such as the living and dining rooms. A closed kitchen is a room of its own that's separate from the rest of the house. There are pros and cons to both.
Open kitchens are great for small homes as they create a seamless flow of space, air, and light. They're also friendlier: You can be working in the kitchen and still interact with others while they relax in the living or dining room. When entertaining, you can move around easily without disrupting conversations.
On the flip side, anything that happens in the kitchen can be heard, seen, and picked up on by the rest of the house. That includes, the whirring of appliances, heat from the oven and stove, strong food aromas, and visible mess, clutter and spills that occur during your food prep.
A closed kitchen lets you eliminate or minimise all that and just focus on the cooking. You don't have to rush to clean up any unsightly mess and you'll have more storage space as you can fit in more cabinets. There's more freedom with the design as it stands on its own. So you don't have to worry about colours or fittings clashing with other parts of the house.
Ultimately, the key lies in what your kitchen mean to you: A shared space for social interactions, or a sanctuary for stress-free, serious cooking?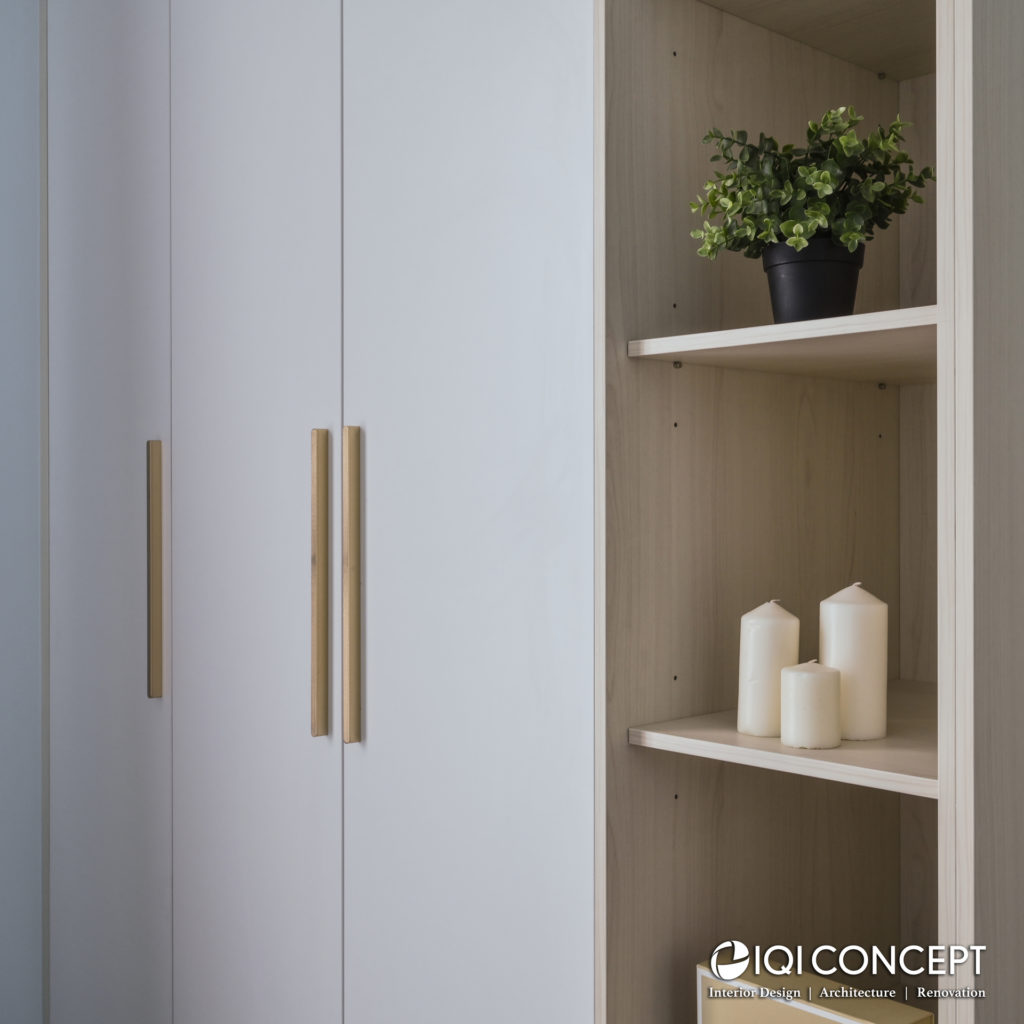 What's the best material for kitchen cabinets?
Options abound, but can be broadly categorised into wood and wood-like materials. Your decision should be guided by considerations such as budget, aesthetics, and ease of maintenance. Here's a quick comparison of some common kitchen cabinet materials:
Melamine: One of the cheapest materials, with a wide variety of colours and patterns. Easy to clean but very susceptible to scratches and dents. It's also quite heavy and can sag over time.
High Pressure Laminate: This is quite similar to melamine, with an equally wide range of finishes and is just as easy to clean. It's more expensive but the plus point is, it's more resistant to scratches.
Polyester: This one's slightly pricier than melamine, more resistant to scratches and dents (retouching can be difficult though) and comes in a wide variety of colours, grains and finishes.
Solid wood: Many prefer this for its high quality, durability, and high resistance to damage. Scratches are simple to remove with a buff, but excessive humidity may cause them to break. It comes in a good variety of wood species, each with its unique natural shade and grain and thus timeless appeal. The price tag corresponds with the quality, and it is fairly high maintenance – solid wood cabinets must be coated in a waterproof finish and cleaned using only specialised products.
Wood veneers: The cheaper alternative to solid wood, it's reasonably durable and easily restored if there are scratches. Maintenance is easy as you can wipe it down with a damp cloth. One thing to look out for is the "bubbling" effect that can happen over time due to excessive moisture.
Medium-Density Fibreboard (MDF) This material comes in large pieces and is customisable to fit any style and design. Its even grain makes it easy to paint (and repainted) on and it handles humidity fair well, with low chances of warping. However, it does not suit high temperatures and dents and scrapes are almost impossible to be removed.
High Gloss Thermofoil Glossy and shiny, it makes your kitchen brighter and appear more spacious. This material doesn't warp or fade with time and is generally highly durable. Most marks are removable by using a damp cloth. Scratches, however, are difficult to cover up and because of its reflective surface, smudges and fingerprints show up easily.
Most kitchens typically feature a combination of materials, depending on the design, needs, and usage patterns. If you have young children, use High Gloss Thermofoil only for the higher cabinets, which they can't reach. Do a lot of high-heat cooking? Be careful of using solid wood or wood veneers, or make sure you have an efficient ventilation system installed. If budget is your top consideration, the first three materials are probably your best bets, but do note their limited shelf lives.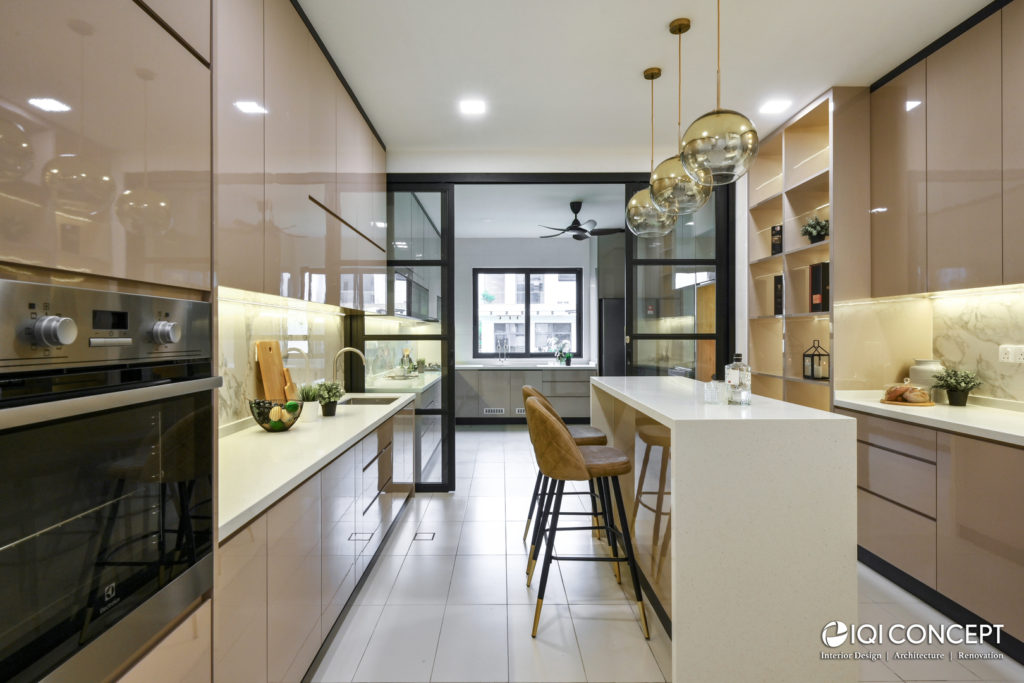 How can you maximise your kitchen space?
Don't just think about making the most of what space you have, but about how and where you can create more space. You can't line your entire walls with cabinets, for example, but you can use things like pegboards, stainless steel systems, and wall-hanging racks for your pots, pans, and utensils.
Have a narrow gap between cabinets? Fit in a pull-out pantry. Use folding tables that can be extra prep or dining space when you need but otherwise tucked out of the way. Inside cabinets and drawers, organisation is key so use trays and dividers to keep your things neat and in place. When it comes to the kitchen sink, think depth over width. A deeper sink lets you stack up more plates and also fit in bigger items.
If you have an open kitchen, there's less space for cabinets. As it has less walls, in which case an island kitchen could be a good alternative. You can consider cabinets and drawers that open from both sides of the island. It eases the access and optimizss storage, and place "floating" open shelves above the island.
A cart-style island is another great option. Here's another tip: Not all storage spaces need to be on the wall or floor. Consider wheeled trolleys that can be easily moved around. These are ideal for small items and cooking ingredients like spices.
Once you have these three priorities sorted out, you can plan out the rest of your kitchen design for a space that combines the best of form and function.
---
Follow our socials to get the latest updates!
Looking to transform your home? Click here to get a free consultation now!